Last news
Announcements
20.06.2008
On June 27, 2008 the talk of famous Japanese scientist in the field of photosynthesis, Professor Murata N. will be held in the Institute of Botany.
20.06.2008
On June 25, Tarlan Mammadov Hazarpasha oglu will defend his dissertation entitled "Identification, characterization and ...
→
20.06.2008
The International Conference and Workshop on "Bioinformatics: Current Progress and Practical Applications" devoted to the 80th anniversary of J. Aliyev...
→
Scientific achivements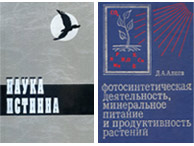 НАУКА ИСТИННА
20.06.2008
(Документальная хроника)
В тяжелое для страны время политических игр трудный путь борьбы академика Джалала Алиева во имя принципов чистоты науки и торжества истины
→
GARAGYLCHYG-2 DURUM WHEAT VARIETY
13.06.2008
ORIGIN: The variety was released at Research Institute of Agriculture crossing local "Garagylchyk" cultivar with "Norin-10" by a multistage selection.
→
Scientific
More than fifty years of fruitful researches of Professor Aliyev are devoted to study on the theory of photosynthetic activity as the base of productivity of agricultural plants, mainly of wheat.
In the consecutive and purposeful activity J. Aliyev develops complex researches on photosynthesis as a base of production process. The cycle of these researches covers physiological, biochemical and molecular-genetic bases of plant productivity and also a study of production processes in all levels of structural- functional organization of vital function of the plant organism - from molecular to the whole plant and sowing.